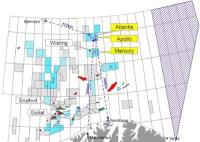 Operator Statoil has together with its partner Idemitsu Petroleum Norge made a small gas discovery in the Mercury prospect in PL614 in the Barents Sea. This completes Statoil's 2014 exploration programme in the Hoop area.
This summer Statoil drilled three exploration wells in the Hoop area in the Barents Sea: Apollo and Atlantis in PL615 and Mercury in PL614. Those were Statoil's first operated wells in the Hoop area. Statoil is partner in the OMV-operated oil discoveries Wisting Central and Hanssen in the neighbour licence PL537, which opened a new oil play in the Hoop area.
Unfortunately, the three Statoil-operated wells drilled this summer did not result in commercial discoveries. In Apollo a good reservoir was proved in the well, but no hydrocarbons. Atlantis and Mercury resulted in two small gas discoveries.
"We are naturally disappointed with the results of this summer's drilling campaign in the Hoop area," says Irene Rummelhoff, Statoil senior vice president for exploration on the Norway continental shelf.
"However, it is important to understand that Hoop is a frontier area of more than 15,000 square kilometres with only six wells completed to date, so we do not have all the answers about the subsurface yet. Non-commercial discoveries and dry wells are part of the game in frontier exploration. They provide important knowledge about the area."