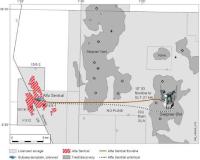 On 22 June 2016, Statoil and JX Nippon completed their previously announced transaction, whereby Statoil has acquired JX Nippon's 45% equity share in, and operatorship of, the UK license for the Utgard field.
Through this transaction, Statoil now has a 100% interest in UK Continental Shelf licence P312, which, with Norwegian Continental Shelf licence PL046, comprises the Utgard field. Statoil previously acquired stakes in P312 from First Oil in October 2015 and Talisman Sinopec in December 2015. Statoil is the operator in PL046 with a 62% holding.
A final investment decision for Utgard is planned before the end of 2016, with production start-up in 2020.