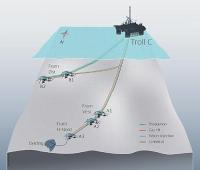 Statoil has agreed to acquire Wintershall Norge's 25% interest in the Byrding project on the Norwegian Continental Shelf (NCS).
On conclusion of this transaction Statoil will increase its interest from 45% to 70%. Byrding (PL090B) is an oil and gas discovery in the northern part of the North Sea and is operated by Statoil. It is near the Troll/Fram area which represents a focal point of Norway's oil and gas production.
"Byrding is a low cost project that is profitable in the current oil price environment. Through this transaction, we further deepen our position in a core area for Statoil," says Gunnar Nakken, Statoil's senior vice president for Operations West.
Statoil and its partners in August submitted the Plan for Development and Operation for Byrding to government authorities. Capital expenditures were reduced from initially approximately NOK 3.5 billion to the current estimate of approximately NOK 1 billion. Recoverable volumes are projected at approximately 11 million barrels of oil equivalent.
The agreement is a further acquisition by Statoil in core areas, following an increase in the Wisting discovery in the Hoop area of the Barents Sea in September and transactions for the Utgard field near Sleipner in the North Sea during 2015 and 2016.
The field is scheduled to come on stream in the third quarter of 2017. The project will thus yield a return in the same year as investments are made.
The effective date for the transaction is 1 January 2016. Closing is subject to customary conditions, including authority approval.