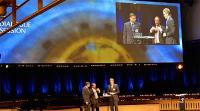 Statoil invited politicians, suppliers and other important stakeholders to Stavanger Concert Hall today to share challenges and increase understanding for the changes that are the inevitable outcome of tighter margins in the oil and gas industry.
Stavanger Day, being arranged this year for the first time, is set to become Statoil's most important arena for meeting politicians and industrialists in the Stavanger region. Some 630 participants were in attendance at the Concert Hall.
NCS is Statoil's centre of gravity
President and CEO Helge Lund emphasised the important role played by the Stavanger region and the west coast of Norway.
"In addition to being at the centre of the country's oil and gas industry, Stavanger is also a global energy capital. It has achieved this position by virtue of an industry that has managed to grasp opportunities," he said.