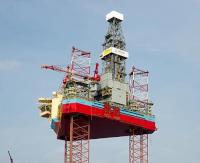 Statoil has received consent to drill an exploration well on the Gina Krog field in the North Sea.
Exploration well 15/6-14 S, which Statoil has now received consent from Petroleum Safety Authority Norway to drill, is to be drilled as a sidetrack from existing well 15/6-B-2.
Gina Krog – an oil and gas field located 250 kilometres west of Stavanger and 30 kilometres north-west of the Sleipner A facility in the North Sea – came on stream in 2017.
The drilling location's geographical coordinates:
58° 34' 19.35" N
01° 41' 48.80" E
Water depth at the site is 116 metres.
Drilling is estimated to last 17 days in the event of a dry well and 25 days in the event of a discovery, and will start in September.
The well is to be drilled by the Maersk Integrator mobile drilling facility.
Maersk Integrator is a jack-up drilling facility, delivered by the Keppel Shipyard in Singapore in 2014. The facility will be operated by Maersk Drilling Norge AS.