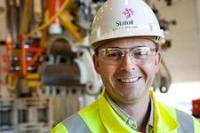 For the very first time, remote-controlled machines and an underwater welding robot have installed a new tie-in point on a live gas pipeline, without the pipeline being prepared in advance.
These types of operations can save Statoil lots of money in the long run.
The hot tap installation is the first to be carried out in connection with preparations for Åsgard subsea gas compression in the Norwegian Sea, and thus also represents a milestone for the project. The tie-in point was welded on to the Åsgard B production flowline at a water depth of 265 metres.