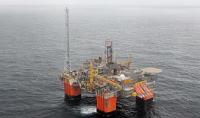 Old and partly lost slots that were given up as providers of new production triggered new solutions for Snorre B. The result was three wells with an average price of NOK 170 million, compared to NOK 490 as reference base.
Statoil's Drilling & well (D&W) has recently delivered three new wells on the North Sea Snorre B field, contributing strongly to the corporate goal of "radical change" to reduce the breakeven for new wells.
The three wells, C-2, C-3 and C-4, have boosted Snorre B production by 30%.
"We estimate the price per barrel for these wells to be well below USD 10. Snorre B is currently producing around 80,000 barrels per day, which is a very satisfactory result. Together with D&W we have found the right drilling targets for our wells, and when we add a predictable and long-term drilling plan allowing optimisation and higher efficiency, we have the success factors," says Oddmund Rismyhr, acting head of Snorre Petec.
"This had not been the outcome if the slots had not been so bad at the outset, forcing us to be innovative. Due to a damaged C-3, for example, we applied a simplified casing design. This resulted in a short and quick well," says Johan Dahl, head of D&W planning.
The cost reduction recipe involved a standardised and simplified well design – a standard completion design for all wells. The same type of drilling fluid was also applied to allow reuse. By carrying out the same operations in series they also saved a lot of time and resources, as they were able to complete all stages – drilling, lower completion, upper completion and Christmas tree setting – three times when they first started the operations.
"If we drill only one well, we must rent equipment and send it back to shore, while the remaining completion equipment and drilling fluid must be sent to shore when we are done. In this case we did the same operations three times, saving much time, improving use of resources and reducing costs and rental time. We also save a lot on mobilisation costs and logistics," he says.
"At the same time we learn a lot from each well, which is reflected in the reduction in time spent on sub-operations during the process," says Dahl.