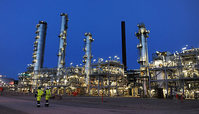 Beerenberg has entered into a 7-year contract for ISO and other supporting services at Statoil's Tjeldbergodden facilities. The contract begins 1 January 2018.
Beerenberg has extensive experience from maintenance assignments at a number of land facilities in Norway, and since March 2017 have performed a project-based maintenance assignment at Statoil's Tjeldbergodden.
"This contract has strategic importance for Beerenberg, in an area where the company is well established. We take this contract as recognition that Beerenberg delivers quality and service which meet the conditions of a competitive market," says Ole Klemsdal, Beerenberg's Communications Manager.
According to the contract, Beerenberg is the total supplier of ISO and other supporting services at the facility. The contract includes maintenance services, work in relation to turnarounds and larger planned maintenance projects. The agreement has an estimated value of approximately NOK 20-40 million.