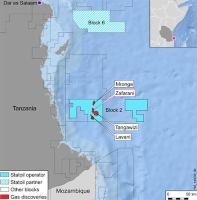 Statoil and co-venturer ExxonMobil announce the results from their first drill stem test in the Tanzania Block 2 offshore discoveries.
The data acquired is important to reduce technical uncertainties in a possible future Tanzania offshore and LNG development.
The Zafarani-2 operation tested two separate intervals and flowed at a maximum of 66 million standard cubic feet of gas per day, constrained by equipment, and confirmed good reservoir quality and connectivity.
The drill stem test operation was performed through a re-entry in the Zafarani-2 well, in 2,400 metres water depth and approximately 80 kilometres off the coast of southern Tanzania.