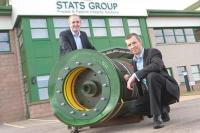 STATS Group is preparing for further international expansion after securing an additional £4.3 million investment from the Business Growth Fund (BGF).
The management team behind STATS has also invested more money in the business, which received an initial £7.8 million of growth capital from BGF in March 2012.
Since the initial funding deal, STATS has doubled its annual turnover to around £30 million, has created 145 additional jobs and has opened operational bases in Canada, the Middle East and the US.
The additional growth capital will fuel the continued rate of expansion, especially in the US, where STATS opened a new facility in 2014 and recently won contracts worth more than $15 million (£9.9 million) to provide intervention and isolation services to one of the largest energy infrastructure companies in North America.