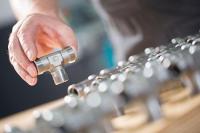 The Stauff Group, manufacturers and suppliers of pipework components and hydraulic accessories with headquarters in Werdohl/Germany, introduced its extensive steel tube connector range at the Hannover Messe 2015. Stauff Connect was developed for reliable and leak-free connection of metric tubes with diameters from 4 to 42 mm. The dimensions and designs of the components comply with the latest versions of the standards DIN 2353 and ISO 8434-1.
Jörg Deutz, CEO of the Stauff Group, takes stock one year after market launch and numerous conversations with customers and prospective buyers: "Stauff Connect has fully met the expectations of the market and is already used in standard production by many of our existing customers for other products. But we were also able to establish new business relations during our first year of active acquisition."
Jörg Deutz explains that this is mainly due to the fact that the design and technical parameters of the components were a completely new development to meet to the current requirements of the industry. "Our in-house engineering used all insights and practical experience with tube connector systems," Deutz says. "This allowed us to build a powerful and reliable product range. Our zinc/nickel surface alone clearly exceeds the requirements defined by the VDMA, the German Engineering Association, with regard to corrosion resistance and durability, even after transport, processing and assembly of the components."
Leading independent certification associations have already approved Stauff Connect. The corresponding machine for pre-assembly and final assembly of cutting ring fittings with combined pressure/position control is already being used successfully.
Jörg Deutz particularly highlights the company's own tube forming system: "With component and machine from one source, we are already at the same level with other suppliers as a 'made in Germany' manufacturer."
A unique selling proposition of Stauff Form is that the system is completely based on standard components. That offers numerous combination and adaptation options, omitting the necessity of duplicated stock keeping of similar components with the accordingly high risk of confusion. Material and logistics costs can thus be correspondingly reduced. According to the experience of the Stauff customer advisers, the question of logistics and delivery performance is another important reason for the success of Stauff Connect. "Over many years, we have set a high standard with regard to availability and delivery time of our previous portfolio which we also defined for Stauff Connect from the outset."
Almost 90 % of all catalogue articles are now available from stock. The remainder are parts with lower or irregular demand, such as special connectors with step sizes deviating from the standard. These can be manufactured on the production line in Werdohl, which was specially set up for short term manufacturing, and delivered within the shortest possible time. Stauff will not rest on the laurels of the first year's success – quite to the contrary: "Stauff Connect has great potential which is confirmed by the positive feedback from the market."