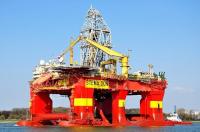 Sparrows Group has been awarded a 3.5-year extension to its inspection services contract for Stena Drilling's global fleet of drilling vessels.
The contract scope includes carrying out LOLER lifting gear surveys, potential dropped objects surveys, cargo carrying unit (CCU) and non-destructive testing (NDT) inspections as well as rig specific maintenance.
As well as an extension to the contract, the scope has also been expanded to cover Stena's entire fleet of seven vessels, including the Stena Don in Norway.
Initially awarded until the end of 2017, the extension will see Sparrows deliver the inspection service provision until the end of 2020 and marks over 10 years of Sparrows holding the contract.
Stewart Mitchell, chief executive officer of Sparrows Group, says, "We have developed a strong relationship with Stena and we are pleased to continue it with the extension of the inspection services contract. The inclusion of the Stena Don is testament to the excellence of our inspection team and the level of service delivery they have achieved to date. Effective inspection and maintenance routines are essential to guarantee the safe and reliable operation of critical equipment and avoid unnecessary downtime. Our inspection team's experience and reliability will ensure continuity and integrity across Stena's global fleet."
This is the latest in a string of contract wins for Sparrows having recently announced the refurbishment of two offshore cranes for Centrica's Morecambe Bay fields and a three-year maintenance, lifting and rigging contract for the Ichthys LNG project in Australia.