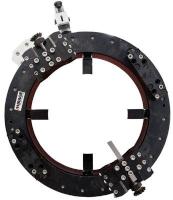 Mirage Machines, an Acteon Company, has achieved a step-change in the operational efficiency and reliability of cutting technologies for pipeline and plant fabrication manufacturers and contractors in the international energy sector.
Rising fabrication and maintenance project activity, including works on wellhead, riser and caisson assemblies, has significantly increased demand from construction yards, operators and dutyholders for new pipecutting technologies across the Americas, EMEA and Asia-Pacific.
UK-based manufacturer and supplier Mirage Machines has evolved split-frame machine technology with the development of its MSF (Mirage Split-Frame) machine, which significantly improves the efficiency of pipecutting operations on infrastructure composed of heat-resistant, stainless and super-duplex metals.