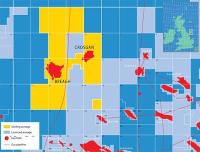 Sterling Resources Ltd. advise that fracture stimulation and production testing of Breagh well A07 have been successfully completed.
After several days of flowing the well to clean it up, the well was production tested at a stabilized rate of 32 million standard cubic feet per day (100 percent) at the planned initial operating conditions of the well.
The performance achieved under these conditions represents an estimated two to three-fold increase in production rates over what would have been expected if the well had been completed with the standard completion used in the Breagh field to date. The well will now be tied into production over the summer in parallel with the drilling of well A08, which should commence within the next two weeks.