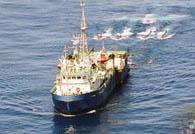 Sterling Energy says that its wholly owned subsidiary, Sterling Energy Mauritania Limited, has signed a sale and purchase agreement with Tullow Mauritania Limited to acquire a 40.5% interest in the Production Sharing Contract for Block C-3, located offshore in the Islamic Republic of Mauritania.
The current holders of the PSC are: •Tullow Mauritania Limited (Operator) 90% •Société Mauritanienne Des Hydrocarbures Et Du Patrimoine Minier (SMH) 10%
Sale and Purchase Agreement
Under the terms of the SPA, on completion: 1.Sterling will assume a 40.5% participating interest in the PSC from Tullow, including an entitlement to a corresponding interest in all past costs; and 2.Sterling will pay Tullow approximately US$2.5m in consideration and repayment of past costs.
Completion of the transaction remains subject to the approval by the Government of the Islamic Republic of Mauritania.