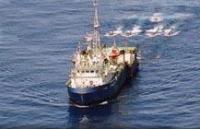 Sterling Energy is pleased to provide the following update for the Ntem Concession, offshore Cameroon.
The operator, Murphy Cameroon Ntem Oil Co. Ltd ("Murphy"), has confirmed that drilling operations have commenced on the Bamboo-1 well using the Ocean Confidence, a fifth generation semi-submersible drilling rig.
The well, located approximately 56 kilometres from the coast of Cameroon, has an estimated target depth of 4200 metres true vertical depth sub-sea (TVDSS) and will be drilled in a water depth of approximately 1600 metres. Drilling operations are anticipated to take approximately 60-70 days.