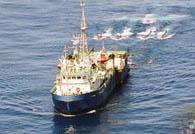 Sterling Energy plc says that completion has now occurred under the sale and purchase agreement between its wholly owned subsidiary, Sterling Energy Mauritania Limited and Tullow Mauritania Limited to acquire a 40.5% interest in the production sharing contract for Block C-3, located offshore in the Islamic Republic of Mauritania.
The holders of the PSC are now: •Tullow Oil, 49.5% •SEML, 40.5% •Société Mauritanienne des Hydrocarbures et de Patrimoine Minier, 10%
Block C-3
The PSC, awarded in 2013, is in the first phase of the exploration period and covers Block C-3, offshore Mauritania, comprising an area of approximately 9,800km2. Phase 1 of the PSC is due to expire on 30 June 2016. Tullow has acquired 1,600km of 2D seismic in 2014 which is now being evaluated. Completion of the acquisition and processing of the 2D seismic data represents the minimum work obligation during Phase 1.