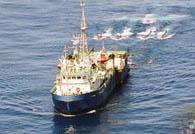 Sterling Energy Plc provides the following update for the Ntem Concession, offshore Cameroon.
Background
Sterling Cameroon Limited, a wholly owned subsidiary of Sterling Energy Plc, holds a 100% working interest in, and is operator of, the Ntem Concession.
The Ntem Concession is in the First Renewal Period. The minimum work obligations for the First Renewal Period have been satisfied, namely by the drilling of the Bamboo-1 exploration well in the first half of 2014.
Following the drilling of Bamboo-1, an assessment of remaining prospectivity of the Ntem Concession led to the conclusion that the area of greatest potential lay in an area subject to overlapping maritime border claims by the Republic of Cameroon and the Republic of Equatorial Guinea.