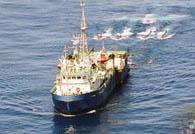 Sterling Energy provides an update on activities in its Ambilobe and Ampasindava Blocks, located offshore Madagascar.
Ministerial and Presidential approval was granted in October 2014 to extend the current phase of both the Ampasindava and Ambilobe PSCs to July 2016 and these approvals have now been formally published in the Official Gazette of Madagascar, which is the final step in the approval process.
The Ambilobe PSC, awarded in 2004, is in Phase 2 of the Exploration Period with all minimum work commitments for the current phase completed. In December 2013, Sterling completed a farm-out agreement with Pura Vida Mauritius under which all costs associated with the acquisition of a discretionary 3D seismic programme, up to a maximum of US$15 million, are carried by Pura Vida. Sterling and Pura Vida each hold a 50% interest in the Ambilobe Block with Sterling as operator. Sterling and Pura Vida continue with planning of the 3D seismic programme which is expected to commence in March 2015.