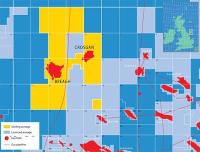 Sterling Resources Ltd. advise that hydraulic stimulation, perforation and production testing of Breagh well A08 have been successfully completed.
After several days of flowing the well to clean it up, the well was production tested at a stabilized rate of 44 million standard cubic feet per day (MMscf/d) (100 percent) at the planned initial operating conditions of the well. The well is expected to be on-line mid-November at production conditions which should deliver 42 MMscf/day of sales gas and 140 barrels per day of condensate.
The A08 well was drilled during the third quarter of 2014 to a location approximately 1.8 kilometres to the north-east of the Alpha platform, encountering 112 feet of net pay in four separate zones.