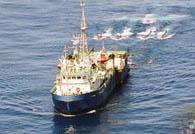 Sterling Resources Ltd. announces an update to Breagh operations and a financial update.
Breagh Operations and Capital Expenditure
Production at Breagh in the first half of 2015 was in line with expectations. In the past few weeks, baseline inspection of offshore and onshore facilities has been completed. In late May an intelligent pig run was made in the offshore and onshore pipeline and during June a planned three week shutdown of the field was successfully completed ahead of schedule. All results from the inspection surveys are in line with expectations, with no significant issues raised.
Headline production figures for the first half of the year are as follows: •The average rate in first half 2015 was 104.8 million standard cubic feet of gas per day ('MMscf/d') of sales gas for the full field (31.5 MMscf/d net to Sterling). This is inclusive of the three week shutdown in June.