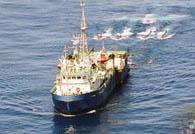 Sterling Energy says that its wholly owned subsidiary, Sterling Cameroon Limited, has signed an agreement with Murphy Cameroon Ntem Oil Co., Ltd whereby Murphy will transfer its 50% interest in, and operatorship of, the Ntem Concession, offshore Cameroon to Sterling.
No consideration is payable for the transfer of Murphy's interest. Completion of the transaction remains subject to Cameroon Ministerial approval. Following completion, the Ntem Concession will be held 100% by Sterling Cameroon Limited (Operator).
Ntem Concession
The Ntem Concession is a large under-explored block, in water depth ranging from 400m to 2,000m, in the prospective southern Douala - Rio Muni Basin, offshore Cameroon. The minimum work obligation for the current phase of the Ntem Concession was met by the drilling of the Bamboo-1 well in 2014.