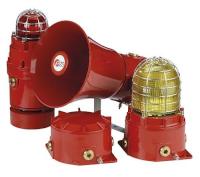 On Stand 8230 at ADIPEC, Abu Dhabi, 07 – 10 November 2016, E2S Warning Signals will launch STEx, its latest family of explosion proof audible and visual warning devices. Optimised for use in fire and gas warning systems in offshore and marine safety systems, STEX is manufactured in 316L and 316 grade stainless steel to give enhanced corrosion resistance and extended operational life in hostile environments.
The latest transducer technology in both the sounders and beacons ensures high sound and light outputs with low current draw, reducing the host system's power requirements and potentially lowering the size of the UPS back-up capacity.
All STEx products are competitively priced, and the design features large installer-friendly termination areas, reducing on-site time and thereby lowering the total installed cost. The family includes high output 117 and 123 dB(A) alarm horn sounders with up to 45 tones, including the PFEER standard warning tones, and either flared or omni-directional radial horns, 15 and 25 Watt PA loudspeakers, 21, 15 and 10 Joule Xenon strobe beacons, LED beacons with user-selectable flash patterns, rotating halogen beacons and combined sounder beacon assemblies.
The 21 Joule Xenon beacons produce an output in excess of 900 Cd, a very bright flash for efficient signalling in environments with elevated levels of ambient light. STEx warning devices are sealed to IP66 and are approved by leading certification bodies such as ATEX and IEC IECEx for use in extended temperature ranges in Zone 1, 2, 21 and 22 environments.