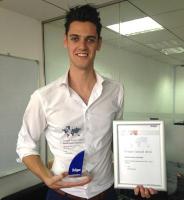 Global provider of health, safety and environmental services, Stirling Group, announced the achievement as it reported a record number of product sales in the Middle East.
Stirling Group's Fire and Rescue Services (FRS) team were presented with the award for the highest increase in net sales in 2013-2014 by Dräger at an awards ceremony in Marrakech.
The Dubai-based Stirling Group FRS team were solely responsible for the largest distribution in Iraq of Dräger X – Zone 5500's, a mobile perimeter gas detection unit which can monitor and measure up to six hazardous gases in connection with 24 other devices, on worksites in the oil and gas sector.