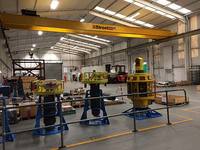 STL (Subsea Technologies Limited), the North East oil and gas subsea intervention technologies specialist, has made key capital investments and appointments over the past months to enhance business capabilities and efficiency to support business growth.
A pioneer of products that solve subsea, well access and pressure containment problems, STL has made a number of capital investments totalling GBP 115,000 to strengthen and enhance their highly respected engineering and workshop capabilities.
In the workshop, a new SWL 10t double girder overhead crane has been installed, supplied by Street Crane, one of the world's largest manufacturers of overhead cranes. The new crane provides much greater control over the movement of loads, greatly improving the ability to control the assembly of large components and as a result reducing HSE risks while also reducing QA risks arising from the assembly process.
This investment, together with new environmentally friendly LED light fittings throughout the main workshop area, which provide a far superior spread of illumination to work under, enhance the industry safety standards STL is committed to. Furthermore, by replacing the old 700-watt incandescent lighting with LED, STL will save an estimated 75% in energy and the lighting will last up to 25 times longer. Along with the crane and lighting, STL have doubled the pressure testing capacity of the workshop with the purchase of an additional pressure test pump and the creation of a new pressure testing cell, allowing projects delivery times to be reduced.
With a global client base and having developed some of the world's first purpose-built subsea well intervention technologies, STL has also made a further investment in engineering IT equipment and software. The addition of Solidworks Flow simulation – Computational Fluid Dynamics software to their existing suite of Solidworks 3D CAD and FEA software used throughout the engineering department, will enable STL to optimise component design before committing to the manufacture of metal parts, driving further quality and efficiency improvements for its customers.
In addition to STL's investment in technology, there has also been significant growth within the company's team appointing 9 new positions to the company since March 2017 now totally 25 people. This includes the recent appointment of Iain Fullerton in a new business development role. Iain has over 40 years of experience of offshore/energy engineering, delivering business development and sales related consultancy. His appointment comes during a period of growth for the company, with STL developing its product offering outside of its core market.
Iain Fullerton says, "STL is well known in a niche market. Now that we are making products that can find applications across the whole subsea sector and indeed other industries, I am looking forward to raising the company profile and extending the knowledge of the company to a much wider audience."