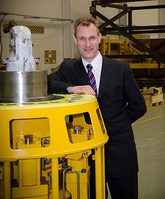 STL (Subsea Technologies Limited), the international oil & gas subsea intervention technologies specialist, has secured ISO 9001:2015 accreditation through Lloyds Register LRQA with no non-conformance issues for the second year running.
This desirable position will enable STL to continue to deliver high quality, cost-effective subsea products and advisory services with confidence throughout the design engineering and development process.
STL's internal processes and systems have been developed and built over the lifetime of its business growth. As such, they offer customers an extremely robust, yet user friendly experience and enable STL to secure such prestigious certification along with recurrent positive feedback from customers.
Iain Fullerton, Business Development Consultant at STL, says, "We are delighted to have received the LRQA accreditation to such a high standard for the second year running. It is testament to the STL team's relentless focus on quality and integrity, as well as proof of our ability to design and develop products for both common and customised applications for our clients. This is executed with confidence and surety for the subsea sector across the globe."
With strong industry insight and understanding surrounding the subsea sector's need for reliable, tested and trusted products in order to ensure complete, holistic and fully integrated systems, STL allows for operational delivery risks to be mitigated.
This is particularly relevant to its ever-growing portfolio of high precision, high performance hydraulic and stab plate couplers that are now available in competitive timescales that can prevent common project delays.
With an enviable history of developing class-leading subsea products, STL's expanding range of hydraulic couplings has been designed and tested for use in the harshest subsea environments and has been developed for use with all types of hydraulic fluids, subject to selecting the appropriate seal type for fluid compatibility.