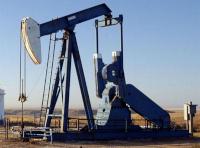 The directors and management of Strata-X Energy Ltd. has received approval to drill the 3,800-foot, Douglas Fir #1 well, which will test multiple shallow Mississippian formations of the Illinois Basin. A drilling contractor is currently being sourced for anticipated drilling in November 2014.
Strata-X holds approximately 70,000 net acres in Illinois which sit on top of and adjacent to several giant oil fields. These oil fields have produced more than 1.5 billion barrels of oil from the same shallow reservoirs Strata-X is targeting.
Most of this oil was produced when oil prices were less than $2 per barrel so economical oil flow thresholds were much higher. The chart below shows that more than 80% of the oil in the Illinois Basin was produced long before oil prices began their rise over $2 per barrel in 1972.