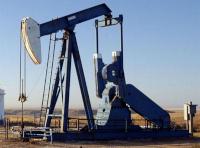 Strata-X Energy Ltd. has completed drilling operations on the Rohweder #1-11 well, the Company's first proof of concept well on the Company's 120,000 net acre Sleeping Giant Gas Project.
In drilling the vertical Well to a total depth of 1,450 feet, gas shows were encountered immediately after penetrating the regional hydrocarbon seal. In total, gas shows were encountered over an 80 foot interval of the targeted Niobrara formation, with gas shows peaking at approximately 300 units over a background of 25 units. In drilling portions of the targeted Niobrara formation, oil fluorescence and oil cut were also observed.
The Well is currently being logged in preparation for setting casing to total depth. After casing, the Well will be shut-in to await completion stimulation. This will allow the Company time to design an optimal method utilizing data obtained during the drilling of the Well.