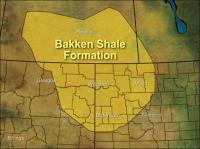 Stratex Oil & Gas Holdings, Inc. has entered into a Joint Development Agreement (JDA) with Eagle Oil & Gas Co. (Eagle) and Eagle Dodge City Partners, LP, pursuant to which Stratex may earn up to a 50% working interest (WI) in approximately 35,000 leasehold acres located in Ford County, Kansas.
As per the terms of the JDA, Eagle, as operator, will initially drill 4 wells targeting the Mississippian Lime, which produces locally. It is anticipated that the first such well will be spudded within 90 days. Stratex has agreed to pay 75% of the estimated drilling and completion costs of these 4 initial wells, in return for a 50% WI therein. Subsequently, Stratex may elect to participate in the drilling of additional wells.
Provided that the Company makes all required timely payments under the JDA, upon the completion or abandonment of the next 6 wells, Stratex will receive an assignment of an undivided 25% WI in the aforementioned 35,000 acres. Upon the completion or abandonment of 10 more wells, Stratex will receive an assignment of an additional undivided 25% WI, totaling a 50% WI. Following the drilling of these 20 wells, Stratex will drill future locations with Eagle on a 50/50 "heads up" basis.