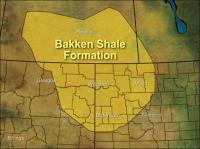 Stratex Oil & Gas is currently producing approximately 98 gross, 65 net barrels per day (b/d) of oil, both from its historical non-operated and operated properties in the Bakken Shale and Montana, respectively, and its operated south Texas lease.
Pursuant to the Company's previously announced Joint Development Agreement signed in December 2013 and amended in January 2014, in exchange for the Company's commitment to frac a certain well known as the Matthews 1H prior to March 31, 2014, the Company received an assignment of an undivided 50% working interest (WI) in an oil & gas lease covering approximately 2,629 acres in Zavala County, Texas (the "Zavala Lease").
The frac of the Matthews 1H was completed in March and the well was recently placed on production at an average rate of 30 gross b/d of oil over the past 10 days. The Company holds a 66.67% WI before payout and a 50%% WI thereafter.