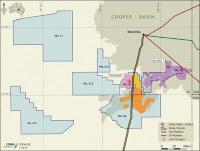 Strike Energy Limited says that flow back operations at Klebb 1 commenced July 1 from the Vu Upper stage only, with high initial flow rates (up to 3,000 barrels per day) being observed.
Coil tubing operations, including circulating fluid and nitrogen pumping, were then undertaken to clean the wellbore and mill the inter stage plug and to artificially lift fluid out of the well.
Overall 2,800 barrels of fluid was recovered from both zones and the well is currently shut in for ongoing pressure observation.