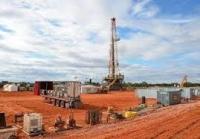 Strike Energy Limited provides an update on its continuing flow testing program at its Southern Cooper Basin Gas Project in PEL 96 (Strike 66.7% and Operator, Energy World Corporation 33.3%).
Flow testing operations
Flow testing operations at Le Chiffre and Klebb during April and May have been focussed on reservoir pressure reduction to build gas flow rates towards commercial levels.
Good progress has been observed at Le Chiffre with the well currently undergoing an extended pressure build up test. Approximately 87,000 bbls of water has been produced from Le Chiffre to date. The build-up test will provide valuable reservoir data and allow the ongoing testing program to be further refined.
Following operational improvements, substantial progress has been made at the Klebb pilot leading to increased water and gas flow rates. As discussed in more detail below, we have now established communication between Klebb 1 and Klebb 3 and improved the productivity of Klebb 2. Gas flows have responded accordingly providing confidence that the Klebb multi-well test is capable of achieving commercial gas rates.