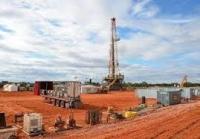 Strike Energy Limited provided an update on operations at its Southern Cooper Basin Gas Project in PEL 96 (Strike 66.7 percent and Operator, Energy World Corporation 33.3 percent) in South Australia.
Program Overview Operations to enhance the water and gas production capacity of the 3 Klebb wells are well underway (Phase 3 flow test program). The work program comprises the following activities: Klebb 1 The current jet pump will be replaced with a rod pump.
This will allow fixed water production rates to be maintained at lower reservoir pressures and will also facilitate down‐hole gas separation, further reducing back‐pressure on the well.
The maximum water rate attainable with the beam pump is expected to be similar to the rates achieved with the jet pump of around 500 barrels of water per day (bwpd) Klebb 2 and 3 The Vu Upper zone at Klebb 2 and 3 will be fracture stimulated pumping approximately double the volume of fluid and proppant as used at Klebb 1.