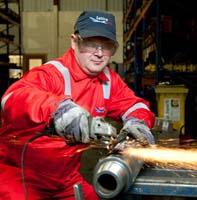 Saltire Energy, supplier of drilling tools to the offshore oil & gas industry, has posted its annual results (year end to June 30, 2013) with turnover up more than 50% from £21.5million to £32.9million.
Operating profit for the year has also risen from £14.1million to £18.5million.
Mike Loggie, Chief Executive of Saltire Energy, said: "The last 12 months has seen steady growth in our business in the UK and across our international operations.
"As a company, our focus is on delivering high quality equipment and services for our clients and we have seen a significant rise in our activities in the Middle East, Africa, Asia Pacific, the UK and North Sea. This has supported growth in our turnover across the company.
"Over the coming months, we plan to increase our footprint in Aberdeen with the expansion of our facilities in Portlethen and expand our presence in Europe with the opening of a further base.
"Developing our equipment inventory has been a strong focus and last year we invested £10million back into the business, which we have done again in 2013 to extend our suite of industry accredited drilling tools and pipe. This allows us to continue to meet the needs of our clients and fuel further growth of the business."