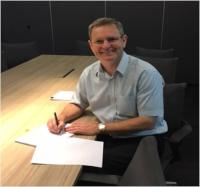 Singapore-based Stuart Wright Pte Ltd has signed a 1-year contract with four 1-year options to deploy its flagship Well Condition monitoring software – Real Time Barrier Condition (RTBC) – on Maersk Oil's Culzean development.
Managing Director Colin Stuart say, "RTBC has been several years in the making by a brilliant team. We are tremendously proud that the value of RTBC has been recognised with a one-year pilot contract and four, one year options on Maersk Oil's cutting edge Culzean development in the North Sea. RTBC puts us on par with other industries by knowing at a glance the true condition of well infrastructure at all times, during construction, completion and intervention in the production life cycle. The solution provides a platform for the sharing of key well condition and barrier data with validation evidence captured in a unique cloud data base accessible by the rig and office in real time."
Stuart Wright estimates this approach reduces drilling costs up to 10%, by eliminating delays caused by lack of accurate and timely information, as well as improving well safety performance.