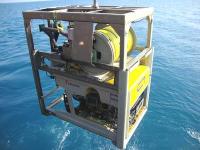 Global manufacturer of specialist remotely operated vehicles (ROV), Sub-Atlantic, has won a second contract with Italian oil and gas subsea services provider, AALEA. The contract will see Sub-Atlantic deliver one of its class-leading Tomahawk observation ROV systems.
The Tomahawk has been optimised as a survey system. It is configured with intelligent interfaces, including an advanced subCAN control and diagnostics system, and is powered by Sub-Atlantic's powerful DC propulsion system which incorporates Statorshield™ technology. This high-performance control, coupled with powerful propulsion, provides a stable platform which enhances its survey and data collecting capabilities.
It is the second system of its kind that Sub-Atlantic has provided for AALEA with the first successfully completing a major 100km pipeline survey through the strong currents of the Strait of Messina, a narrow passage of water in the Mediterranean Sea between Sicily and the Italian mainland. A total of nearly 2.000km of survey has already been performed through both the cable route and pipeline, with nearly zero technical downtime and an average survey speed of 0.7/0.8Kts.
The survey involved Sub-Atlantic's Tomahawk system performing in deep water using a diverse range of sensors including: a dual-head, multi beam echosounder; a fibre optic gyroscope (FOG); a bathymetric system; a doppler velocity log; hydraulic boom cameras; a pipetracker, wheeled skid; CP with electric actuator; and laser measurement equipment.