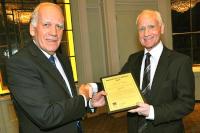 The Society for Underwater Technology (SUT) has presented its President's Award to Dr Kjell Olav Stinessen in recognition of his long term services to industry at the Society's AGM and annual dinner in London.
Dr Stinessen has been an engineer for over 50 years and is now a First Chief Engineer at Aker Solutions. In 1985, he drew a sketch on the back of a napkin of his vision for how subsea compression might work in the future. In September this year, 30 years after the napkin drawing, that vision was transformed into reality with the offshore industry's first full-scale subsea compression station in operation at the Statoil-operated Åsgard field.
Dr Stinessen said: "Being awarded SUT's President's Award is a great honour. Countless engineering hours have been spent together by thousands of employees at Aker Solutions, sub-suppliers, Statoil and Shell to realise this vision and I am pleased that persistence can be awarded.