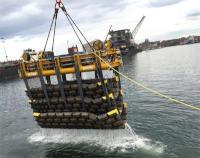 Subsea Innovation has completed the design and manufacture of a unique Multi-Mattress Deployment System (MDS3) for Offshore Marine Management Limited (OMM).
OMM is a leading global service provider specialising in the delivery of subsea solutions for the offshore energy, grid and telecommunications industries and has worked with Subsea Innovation to produce this innovative subsea tool which will substantially reduce project costs and improve HSE standards offshore. Its technology will deliver significant time savings consequently driving down associated vessel, equipment and personnel costs as well as removing the need for either divers or a work class ROV to assist deployment.
The MDS3 was designed and manufactured at Subsea Innovation's headquarters in Darlington before going through extensive wet testing at PD Ports facility at Hartlepool and finally sea trials.