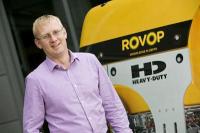 Subsea specialist ROVOP has appointed a finance director to further strengthen the company's position for future growth.
Alan Shanks takes up the post and also joins ROVOP's Board of directors, bringing extensive experience in successfully facilitating and managing strategic business expansion from a financial perspective.
Previously financial director for subsea oil and gas group, Harkand ISS, Alan's track record also includes considerable experience of working with owner managed and private equity backed businesses to help drive forward growth.
Steven Gray, managing director at ROVOP, said Alan further strengthened the management team at the independent company which focuses exclusively on providing remotely operated vehicle (ROV) services for the oil & gas and offshore wind markets.
He said: "ROVOP has experienced exceptional growth since it was established and Alan joins at a time when the company enters an exciting new chapter.. We are particularly pleased to have attracted someone of Alan's calibre because his great depth of knowledge, both at an industry and corporate level, will be pivotal to helping ROVOP further build on its growth."