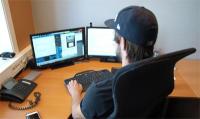 Scantrol has delivered two AHC LARS control systems to Ennsub Deepwater Technologies to use on board their customer's vessel Ceona Amazon. The systems were successfully configured and tested from the Scantrol offices in Bergen. — The remote assistance saves valuable time and commissioning costs for our customers, says managing director at Scantrol, Helge Hammersland.
The remote commissioning was made possible by the AHC Toolbox. iSYM Online offers remote support both onshore and at sea by connecting to the ship's LAN via satellite. Before sea trial Dynatest is used in the factory to verify AHC performance based on recorded winch characteristics and simulated vessel motion.
The LARS systems were set up at Ennsub premises in the UK for testing and connected to a laptop. From the offices in Bergen Scantrol technicians connected to the laptop, finished the system configuration and performed a Dynatest to verify the AHC performance.