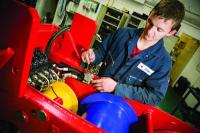 NOV Elmar has expanded its presence in Norway with a move into larger premises to meet increasing work levels.
The new premises, which are purpose-built for NOV Elmar's service offerings, are based in Tananger, a main oil and gas business area within Norway, and include approximately 250 sq. meters office space, 1200 sq. meters workshop space and a 1300 sq. meters outdoor area. Staff numbers are also increasing as new service technicians will be hired to support the company's Winch and Pressure Control product lines.
The Tananger base will continue to focus on both sales and after sales support; offering maintenance services, 24/7 client support, spare parts and training on ASEP and Elmar equipment commonly used in Norway.