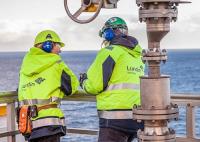 Lundin Petroleum AB has announced that its wholly owned subsidiary Lundin Norway AS has successfully completed the drilling and production testing of Alta appraisal well 7220/11-4 (Alta-4) located in PL609 in the southern Barents Sea.
The Alta-4 well was located approximately 2 km south of the original Alta discovery well 7220/11-1 and approximately 2.5 km north of the previous appraisal well 7220/11-3. The main objectives of the well were to further appraise the Alta discovery and to provide a calibration point for the drilling of a horizontal well for a possible extended well test that is being planned for 2018.
The well encountered a gross hydrocarbon column of 48 metres, comprising 4 metres of gas and 44 metres of oil in a sequence of Permian-Triassic clastic carbonate sediments. Extensive data acquisition and sampling was carried out in the reservoir, including conventional coring and fluid sampling. Pressure data show the same fluid contacts and gradients as observed in previous wells drilled on the Alta discovery, confirming good communication across the large Alta structure.
A production test was performed in the oil zone, producing at a stabilised rate of 6,050 barrels of oil per day with low pressure drawdown and constrained by rig testing facilities. The production test confirmed very good reservoir properties and good lateral continuity within the Permian-Triassic clastic reservoirs.
A geological sidetrack will now be drilled approximately 900 metres north of the Alta-4 well to assist with placement of a horizontal well for an extended well test that is planned for next year.
Alex Schneiter, CEO and President of Lundin Petroleum comments, "I am pleased with the good well results from Alta-4 which confirm very good reservoir properties, communication across the large Alta structure and excellent production rates. We will now proceed to plan a possible extended well test for 2018, which is the next step in moving the significant Alta discovery towards development."
The well was drilled using the semi-submersible drilling rig Leiv Eiriksson which following completion of the Alta-4 sidetrack well will proceed to drill the Børselv prospect, also located in PL609.
Lundin Norway is the operator of PL609 with a 40% working interest. The partners are DEA Norge AS and Idemitsu Petroleum Norge AS with 30% working interest each.