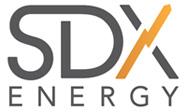 SDX Energy Inc., the North Africa focused oil and gas company, has announced that the KSR-15 well on the Sebou permit in Morocco (SDX 75% working interest) has been completed and tested at a restricted average flow rate of conventional natural gas into the sales line of 7.52 MMscfd (million standard cubic feet per day). The well has also now been placed on production.
The KSR-16 well has been connected to the existing infrastructure and it is anticipated that test production will commence in the next 10 days. The company will update investors on the flow rates in due course.
As per the announcement on 11 December 2017, the drilling rig will now move to the ELQ-1 prospect on the Gharb Centre permit.
Paul Welch, President and CEO of SDX, comments, "This positive result reaffirms our ability to deliver increased rates to our customers in 2018. We now have two wells that exceed our existing daily commitments of 6 MMscfd on a stand-alone basis. We are now very confident in delivering upon our planned natural gas sales rates of 10-11 MMscfd in 2018. I look forward to reporting on the flow rates of our recently drilled KSR-16 well in due course."