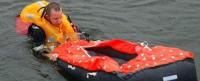 A new class of maritime safety system, the innovative Survivor+™, was successfully launched by Cobham Life Support at this year's Offshore Technology Conference (OTC) in Houston, Texas.
Wide-ranging international interest and positive industry reaction to the introduction of the Survivor+ Personal Overboard Survival System reinforced its potential as a unique solution and a significant breakthrough in the drive to prevent loss of life at sea.
Survivor+ incorporates both a SOLAS-approved inflatable life jacket and a tethered personal life raft into a single compact vest and is the only system of its kind available in the commercial market. It is considered to be one of the most important developments in offshore and commercial maritime safety in recent years
"The volume of visitors to our stand and the amount of interest, questions and positive feedback about Survivor+ was overwhelming," said Don Blackman, Engineering Research Manager, Cobham Life Support. "There was an acknowledgment that our product represents a real step-change in safety, and, most importantly, that it has the potential to save lives. We were delighted with such a positive reaction.