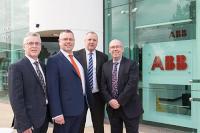 Sulzer has been chosen to provide the UK market with maintenance and repair services for ABB medium and high voltage motors and generators. The agreement provides ABB customers with direct access to the specialist skills and extensive facilities of Sulzer's service centers in Birmingham and Falkirk.
As ABB's first Loyalty Partner to provide workshop and repair services to its range of large motors and generators, Sulzer will provide inspection, remedial work, modifications, repairs and rewinds of ABB's large machines rated at 6.6 kV and above. All repairs will be completed to ABB approved standards using original spare parts.
Sulzer has been appointed after the successful completion of an audit of it facilities, core competencies and consistently high quality, all of which are required to meet ABB's exacting standards. Recent investment by Sulzer in its electromechanical equipment has helped to secure this service agreement.
The service centre in Birmingham has invested in additional equipment in its coil shop, as well as 3D design software to enhance the capability of bespoke coil and bar designs, which are then precision manufactured in-house for a wide range of motors and generators. Centrally located in the UK, the Birmingham facility also has extensive machining capabilities and excellent overhead crane capacity for larger components as well as the largest independent over-speed balancing in the country.
The Falkirk Service Center has also been selected to cover the northern areas of the UK; it has extensive experience with offshore applications and expertise in repairing equipment designed for operations in potentially explosive atmospheres. The service centre will double its high voltage testing capacity in the first half of 2017 to enable 2 MW load testing across a full range of voltages up to 13.8 kV.
Chris Powles, Head of electromechanical services for the EMEA at Sulzer, comments, "This agreement will complement ABB's existing capabilities and provide their customers with a high quality maintenance service that will minimise any downtime through an improved program for the support of repair and maintenance. In addition, Sulzer's customers will also be able to take advantage of replacement supply of ABB equipment as well as ABB's advanced technology services, such as the Air Gap Inspector – a miniature robot fitted with five cameras that can crawl in the air gap between the stator and the rotor of large generators and electric motors. Together Sulzer and ABB will be able to combine their individual strengths and offer customers a package of services that increases efficiency and delivers the most effective solutions."