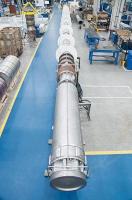 Once again the offshore sector will be meeting up in Aberdeen at the industry's largest free-to-attend conference. This year Sulzer will also be returning to the event with a comprehensive offering for the repair and maintenance of rotating equipment as well as examples of offshore pumping systems and applicator systems.
Following the success of the event in 2015, Sulzer is highlighting the expertise and processes in place that enable it to deliver the highest standard of maintenance with a minimum of downtime. The company has concentrated a range of resources and facilities in the Aberdeen area to support what has become the centre of excellence for the UK offshore industry.
Ross Barraclough, Regional Operations Director at Sulzer's North Aberdeen Dyce Service Center, comments, "Sulzer is renowned for delivering high quality, professional maintenance and repair services through its global network of service centers. In terms of support for the offshore industry we have extensive design and manufacturing capabilities that enable us to deliver a comprehensive service."
With facilities specializing in services for rotating equipment in Aberdeen: Ellon and Dyce, facilities in Falkirk and Glasgow covering the central belt, and many more across the UK and worldwide, Sulzer offers a comprehensive service center network for the offshore industry. Sulzer is an independent service provider to all brands of rotating equipment including pumps, compressors, turbines, generators, and electric motors. The local service centres in Aberdeen specialize in high energy pumping systems and offshore repair services.
Murray Wilson, General Manager as Sulzer's Aberdeen Ellon Service Centre adds, "Sulzer offers a fully integrated service and supply business that supports the oil and gas industry, even during the most challenging times for the industry. At times like these, cost effective maintenance and repair services need to be delivered as efficiently as possible to avoid unnecessary downtime."
As a global pump manufacturer, Sulzer also offers state-of-the-art, high performance pumping solutions for oil and gas production including subsea applications. With safety and reliability being key features of pump design, Sulzer pumps fulfil the latest ISO 13709 (API 610) standards and cover a broad range of requirements. The latest innovations have seen high performance technologies being applied to water injection, multiphase and gas-tolerant pumping solutions; all of which are validated in the test bed located at the Sulzer facility in Leeds.
In addition to pump manufacturing, Sulzer also offers a comprehensive design and build service for components of legacy equipment that may no longer be supported by the original equipment manufacturer (OEM). Precision measuring equipment and materials analysis enable Sulzer to reverse engineer parts and even make improvements to the original design.
On the stand, visitors will be able to see representation from Sulzer's Applicator Systems division and its MixCoat™ system. Sulzer introduces a new professional standard with its 2K coating application systems. Both systems, MixCoat™ Spray and MixCoat™ Flex, combined with the proven 2K cartridge technology and a newly developed spray mixer, allow increased application speeds with reduced downtime. Typical applications for both systems include 2K coating maintenance and repair work in marine, pipeline, shipbuilding, offshore constructions and wind power plants.