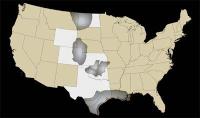 Sundance Energy Corporation provides an update on the Corporation's activities in its Core Project Areas:
Sundance has entered into an agreement with an industry third party whereby the third party will pay 100% of the costs to drill, test, core, case, complete and equip or abandon a Test Well located in LSD 16 of Section 32 in Township 17, Range 3 W2M (the "16-32 Test Well").
The 16-32 Test Well will commence drilling before the end of November 2013 and will be drilled to a depth of approximately 1,250 meters subsurface and will test and evaluate the Jurassic Sands, the Bakken, Lodgepole and Birdbear formations. Cores will be cut and taken in the Bakken and Lodgepole formations. Depending on the results of the log and core interpretations seven inch (7") casing may be run from surface down to 30 or 40 meters into the Birdbear formation.