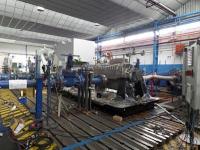 Sundyne – designer and manufacturer of highly-engineered centrifugal pumps and compressors for use in the global oil and gas production, refining, petrochemical and chemical industries – has announced a major success for their line of API engineered process pumps, as a leading engineering contractor has taken delivery of 29 units for installation in a new gas processing facility located in Reggane, Algeria.
The contract calls for a wide range of Sundyne API 610 pump models, including VS6, OH2 and VS4 series units. The program also includes a 7-stage BB3 model, an engineering milestone for Sundyne, as this unit is the largest BB3 ever designed or manufactured by the company's Spanish division. This pump will be the most powerful BB3 produced with a rated power of over 1.2 MW and capable of handling working pressures over 70 bars. "The Beast B3," as the unit has been nicknamed by Sundyne engineers, will be able to deliver flows in excess of 2,000 USGPM.
"The engineering contractor selected this product because of its exemplary efficiency ratings and the Sundyne reputation for quality execution," says Agustin Ramirez Mata, Sundyne sales engineer.
Sundyne collaborated with the customer at every step of the way, fast-tracking development to meet a tight 5-month schedule. The Beast B3 and the remainder of the Sundyne centrifugal API pumps included in the order are scheduled to go online in the facility's gas processing unit in December 2016.