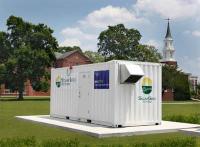 SunEdison, Inc. has signed a definitive agreement to acquire Continuum Wind Energy Limited, Singapore with assets in India. Continuum owns and operates 242 megawatts (MW) AC of wind power plants in Maharashtra and Gujarat states, as well as 170 MW of wind power under construction in Madhya Pradesh state, and has more than 1,000 MW of wind power plants in development across six states in India .
" India is a core market for SunEdison and offers growth opportunities in wind and solar energy," said Ahmad Chatila , SunEdison president and chief executive officer. "With the acquisition of Continuum, a leading wind energy company in India , we have added significant assets and a skilled wind development team to drive further growth in our renewable energy development platform. This acquisition reinforces SunEdison's commitment to India and will drive immediate shareholder value."
"We are excited to join SunEdison at this time of rapid growth in India's renewable energy market," said Arvind Bansal , chief executive officer of Continuum. "SunEdison's strong global financial capabilities and talented local team here in India position us to capture the incredible business opportunity in this dynamic market."