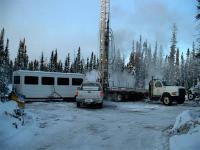 Sunshine Oilsands Ltd. confirm that further to its August 19, 2013 announcement, discussions and negotiations have advanced and it has now signed a non-legally binding Transaction Outline Letter with the same international third party to pursue a joint venture involving its Muskwa and Godin area oil sands leases.
The Transaction Outline Letter provides for a 50 - 50 joint venture pursuant to which the third party will be responsible for investing 100% of the capital of up to US$250 million, and an affiliate of the third party will agree to apply a thermal enhanced recovery technology, to achieve production of 5,000 barrels per day from the Corporation's oil sands leases in the Muskwa and Godin areas. After this capital commitment or production threshold is achieved, the joint venture parties will contribute in proportion to their ownership positions.
In addition, Sunshine and the third party have completed an non-legally binding Operating Agreement Term Sheet that outlines the main terms for a definitive operating agreement for the joint venture that Sunshine expects will be completed in the near future.